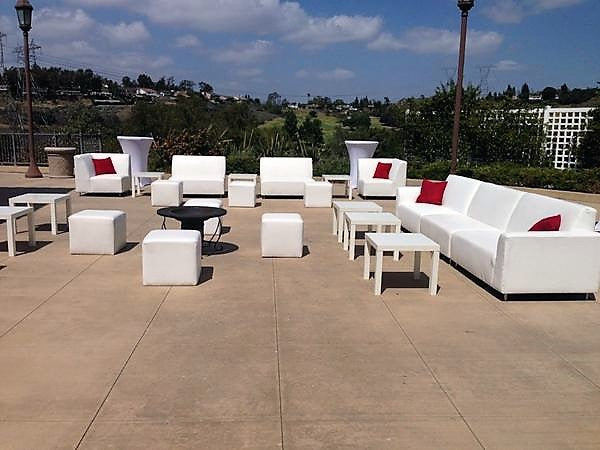 The Perfect 30th Birthday Idea Rental Package | Seats 19
iLounge Rental
Regular price $1,899.00 $1,499.00 Sale
The Perfect 30th Birthday Idea  Rental Package | Seats 19
The time has come and he has proposed to you, at least we hope he did and it's time to give your wedding event a different look than what is customary. You navigate to iLoungeRental.com you find the package "Anaheim Wedding Furniture Rental Package and add it to the cart... see you soon.
SEATS: 19
Includes:
3 Luxury Pearl Armless Rental Sofas
2 Luxury Pearl Corner Rental Sofas
1 Luxury Pearl Left Rental Arm Sofa
1 Luxury Pearl Right Arm Rental Sofa
7 Luxury Pearl Cube Rental Ottomans
8 Side Rental Tables
4 Rental Pillows
The Perfect 30th Birthday Idea Rental Package Dimensions:
(Not all listed dimensions may apply to this furniture rental package)
Left Arm Rental Sofa: 48" L x 33" W x 33" H  
Right Arm Rental Sofa: 48" L x 33" W x 33" H
Armless Rental Sofa: 42" L x 33" W x 33" H
Bench Rental Ottoman: 43" L x 18" W x 17" H
Cube Rental Ottoman: 18" L x 18" W x 17" H
Dice Cube Rental Ottoman: 20" L x 20" W x 18" H
Corner Rental Sofa: 33" L x 33" W x 33" H
White End Rental Table: 22" L x 22" W x 18" H
BRING YOUR PARTY TO LIFE AND LIGHT IT UP:
This Package Was Used For The Following Occasion: 30th Birthday Party
This Lounge Package Is Event Planner Approved.
Delivery Not Included.