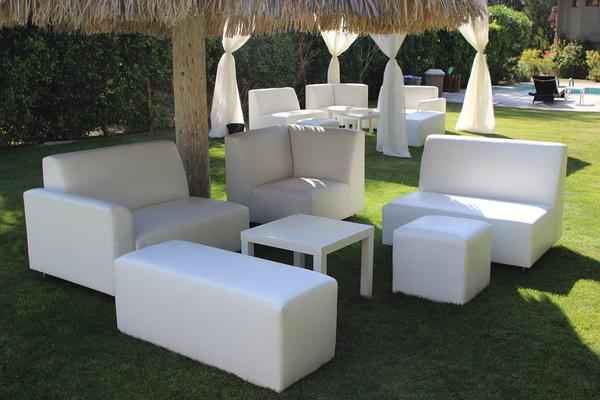 Paradise California Quinceañera Party Furniture Lounge Rental Package | Seats 16
iLounge Rental
Regular price $950.00 Sale
Paradise California Quinceañera Party Furniture Lounge Rental Package | Seats 16
Quinceañeras are the American version of a Sweet 16. Latinos love Quinceañeras because they get to throw the biggest party for their little girl. Bright and Powerful Decorations, recuerdos for people to take home and it would most likely be Mexican Food if you're from Los Angeles, California that is.  The vestido, chambelan and the best girlfriends is all that the Quinceanera needs... and iLounge Furniture.
Fin.
SEATS: 16
Includes:
2 Luxury Pearl Armless Rental Sofas
2 Luxury Pearl Corner Rental Sofas
1 Luxury Pearl Left Arm Rental Sofa
1 Luxury Pearl Right Arm Rental Sofa
2 Luxury Pearl Cube Rental Ottomans
2 Luxury Pearl Rental Benches
2 Side Rental Tables
Paradise California Quinceañera Party Furniture Lounge Rental Package Dimensions:
(Not all listed dimensions may apply to this furniture rental package)
Left Arm Rental Sofa: 48" L x 33" W x 33" H  
Right Arm Rental Sofa: 48" L x 33" W x 33" H
Armless Rental Sofa: 42" L x 33" W x 33" H
Bench Rental Ottoman: 43" L x 18" W x 17" H
Cube Rental Ottoman: 18" L x 18" W x 17" H
Dice Cube Rental Ottoman: 20" L x 20" W x 18" H
Corner Rental Sofa: 33" L x 33" W x 33" H
White End Rental Table: 22" L x 22" W x 18" H
BRING YOUR PARTY TO LIFE AND LIGHT IT UP:
This Package Was Used For The Following Occassion: Quinceañera Event
This Lounge Package Is Event Planner Approved.
Delivery Not Included.