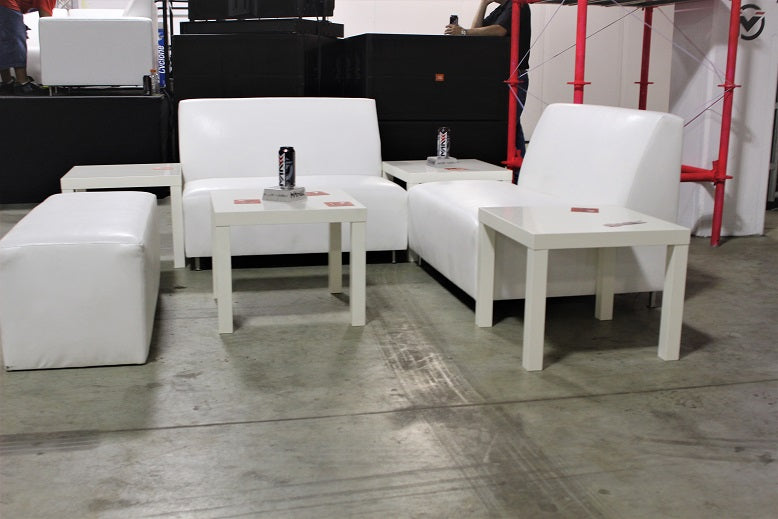 Los Angeles Freedom Lounge Rental Package | Seats 6
iLounge Rental
Regular price $640.00 $450.00 Sale
Los Angeles Freedom Lounge Rental Package | Seats 6
This package might seem a bit small, but if you add a few of them to your cart you can re-create what we created at a Los Angeles Museum in the heart of LA. We used many rental furniture packages to create the look, now you too can have armless pearl white leatherette lounge sofas at your next event.
Take a look at our blog in regards to this event and how we made it happen.
SEATS: 6
Includes:
2 Luxury Pearl Armless Furniture Rental Sofas
1 Luxury Pearl Furniture Rental Bench
4 End Rental Tables
Rave LA Furniture Rental Package Dimensions:
(Not all listed dimensions may apply to this furniture rental package)
Left Arm Rental Sofa: 48" L x 33" W x 33" H  
Right Arm Rental Sofa: 48" L x 33" W x 33" H
Armless Rental Sofa: 42" L x 33" W x 33" H
Bench Rental Ottoman: 43" L x 18" W x 17" H
Cube Rental Ottoman: 18" L x 18" W x 17" H
Dice Cube Rental Ottoman: 20" L x 20" W x 18" H
Corner Rental Sofa: 33" L x 33" W x 33" H
White End Rental Table: 22" L x 22" W x 18" H
BRING YOUR PARTY TO LIFE AND LIGHT IT UP:
This Package Was Used For The Following Occassion: Underground Rave Party
This Lounge Package Is Event Planner Approved.
Delivery Not Included.